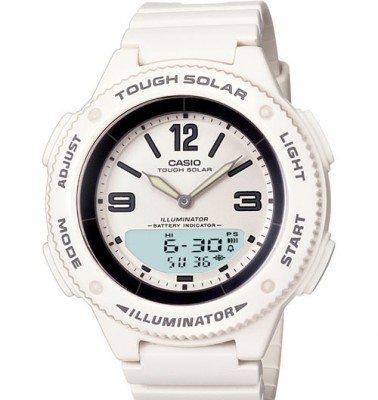 The LCF30-7B Solar-Powered Watch has been designed for women. The watch features both an analogue and digital display and can provide you with an array of abilities without any of the common worries over batteries.
The LCF30-7B watch has been created by Casio. The watch features a round analogue display face with a digital display set into the bottom of the round. The face of the watch is built from a scratch-resistant mineral crystal which helps to protect it from any damage it might incur while it is being worn. The analogue face has been designed to allow quick and easy time reading, the arms of the clock are clearly shown against the background, and there are clear minute and hour markers around the face. The watch has LED backlighting to assist you in reading the time when it is dark.
The white feminine watch is securely fastened onto your wrist with a white resin band that features a traditional buckle. The watch has many different functions, for example, it has the ability for a daily alarm to be set on the watch and it can also be used as a stopwatch. The watch is solar powered so some sunlight exposure is needed occasionally to ensure that the watch continues to work. The watch does have a battery indicator to alert you to the watches need for sunlight to charge, it also has the ability to turn off the display when the watch is in the dark to help conserve on power.
LCF30-7B Solar-Powered Watch is just $39.96 and qualifies for free shipping.