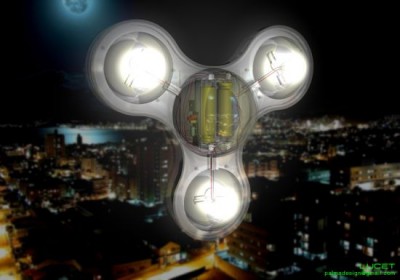 The Lucet is the name given to this solar-powered indoor light design. The light comprises three LED lights surrounding one battery charging area that has a solar panel on the back. The device can then be placed onto windows to charge from the sunlight during the day and illuminate the room at night. The concept is similar to the Spider Solar-Powered Light by Powerplus.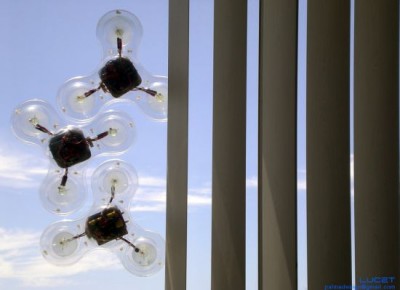 This concept, designed by Rui Palma, could be placed in groups to form a pattern on a window. In actuality, many of these Lucets may be needed to provide sufficient light for them to be considered the main light source of a room, though one or two should be fine for a lower 'mood' light or in addition to another lighting.
The three LEDs (Light Emitting Diode) are powered from a solar panel on the reverse of the device, this energy charges the batteries which will be two AAA batteries. This may take quite some charging, as the current proposed area for the solar panel is relatively small. Fortunately, LEDs require low electricity amounts to produce a strong light so the power of two batteries can be shared between all three lights without too many problems. This may mean the Lucet will not last that long into the evening and will certainly have a shortened time of use on cloudy days when less charge is picked up due to the lower intensity of the sunlight.
Source: Ecofriend