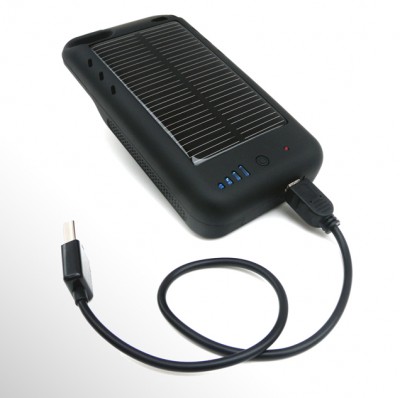 The Mooncharge Solar Battery Case is a great device for protecting your iPhone 4 while providing you with an eco-friendly back up power supply. The case has an inbuilt solar panel that charges its internal battery, this power can then be used by your iPhone when it is required, just remember to leave the protective case in the sun to charge!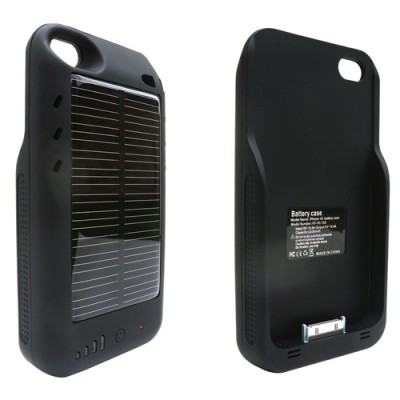 The Mooncharge Solar Battery Case is great for those that rely on a working iPhone even when there is no access to mains electricity. The case has been designed to perfectly fit an iPhone 4, however it can be used to charge similar devices such as an iPod, though the fit will not be as good. The device is a sturdy case than can help protect your iPhone from any knocks and bumps, moreover due to its inbuilt solar panel and internal rechargeable 2400mAh battery it can be used to provide you with an extra boost of power whenever you require one.
The Mooncharge Solar Battery Case is able to provide you with up to 315 hours of standby time, or 5 hours of extra talk time when it has been fully charged. This could also provide you with 27 hours for audio output such as music, or 10 hours of video. To charge the case you can either place it in a bright spot with the solar panel facing the sunlight to allow it to charge in an eco-friendly manner, or you can charge it through USB. The device has 4 blue LEDs that indicate that your phone is running out of power, it can also allow you to connect your iPhone to a computer without removing it from the case.
The Mooncharge Solar Battery Case has been designed to be tough and durable while having a soft touch feel with non-slip finish. It is a great way to keep a back up energy supply for your iPhone, while allowing you to be able to charge up anywhere there is sunlight. Just 20 minutes of sunlight can provide you with up to 50 minutes of standby time, or 5 more minutes of talk time. Though some forethought it required, the case is great for those who require their phone to be charged at all times, even if they are outdoors hiking, camping, spending time on the beach, or just away from mains electricity traveling.
The Mooncharge Solar Battery Case is just £39.95 plus delivery.