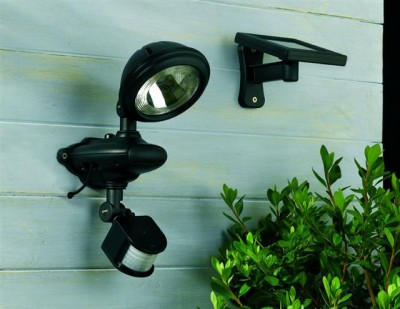 The Solo Security Light provides powerful, low energy lighting, great for lighting any dark doorways, passages, walk-ways, gardens or any area where mains powered lighting would be hard to install. The motion sensitive light helps to provide added security and safety as the light can illuminate any possible intruders or hazards such as steps, all without the worry of any complicated wiring or high energy bills.
The Solo Security Light by Smart Solar uses 3 high intensity white LEDs to provide powerful illumination when the sensor is triggered. The light uses a Passive Infra-Red (PIR) sensor to detected motion within a radius of up to 10m away. Once motion has been detected the light can be set to trigger for between 5 seconds and 5 minutes, providing you with the ability to set it to provide enough lighting for a wide range of uses.
The Solo Security Light uses a solar panel to provide the electricity to power the LEDs, this is stored in its internal rechargeable battery pack, that uses 3 AA Ni-MH 400mAh rechargeable batteries. The solar panel can be set up away from the light, it connects to the light by its 1.8m cable. This allows you to ensure the solar panel is in a sunny spot to make best use of any sunlight around while the light is placed in the area it is required.
The Solo Security Light can be swiveled up and down and from side to side, allowing you to position it to light up the exact area you wish. The light provides you with added security and safety to your outdoor areas, lighting up steps so you do not trip, lighting up a doorway, providing light for a shed or alerting you to movement outside your house. The light is a great way to illuminate dark outdoor spots without the worry of large energy bills, or having to deal with any complicated wiring.
The Solo Security Light is just £17.99 plus delivery.