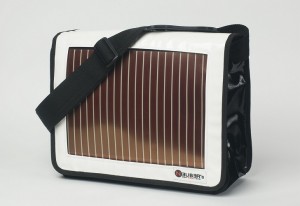 Konarka Industries have partnered with German retailer Neuber to create lightweight Energy Sun-Bags, which are fitted with a 1.4W solar panel that can charge most portable gadgets that need a charging power supply up to 5V at 600mA. The Sun-Bags can charge the usual gadgets, such as MP3 players, cameras, phones, games consoles, etc.
The Sun Bags are claimed to be the lightest on the market, weighing only 500 grams (1lb), including the solar panel, battery and all of the charging cables. The bags are available in 37 colors with optional custom printing, which is particularly useful for branding the bags with a company logo.
Prices start at around €120, which is currently around $180 USD due to currency fluctuations.