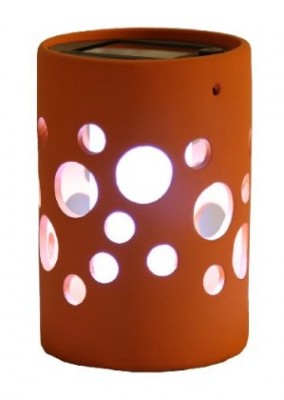 This Solar Light Pot by Tricod has been designed for outdoor use, to provide a modern looking light source for a garden. The light is suitable for placed on a patio table, on a wall, or anywhere you require outdoor lighting.
The Solar Light Pot has a solar panel built into its top, so that it can take advantage of any daylight around. The solar panel charges a rechargeable Ni-Cd AAA battery which powers a LED bulb. By using an LED the light requires very little electricity to run brightly, which allows the light to work during the evening after even a quite dull day. If a light is required on an evening after a day of very little sunlight the drained battery could be replaced with a full one. We would recommend using another rechargeable battery that could be left in the device.
The light pot has been constructed out of water and corrosion resistant materials, so that it can be left outside ready for use in all weathers without any worry of it becoming damaged. The light automatically turns itself on when dusk falls, though it can be turned off if the light is not required. The lights modern design, bubble pattern and bright colour allow it to stand out in any garden.
As it requires no wiring it is easy to set up wherever you desire additional lighting, though some thought must be given to ensure it is exposed to some daylight by which to charge. As the light is solar powered there are no long term running costs to using it. The light pot has a diameter of 8.9 cm (3.5 in) and a height of 14 cm (5.5 in) which makes it perfect for use as a light on an outdoor table, to lighten up a evening party or BBQ. It is also then small enough to be taken with you when camping if an additional light is required.
The Orange Solar Light Pot is only $16.99 and is eligible for free shipping.