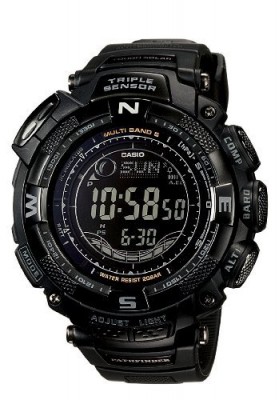 The Pathfinder Watch is a multi-band digital watch that is powered from solar energy. The watch has been designed to be great for those who enjoy life outside, with an inbuilt compass that watch is also water and scratch resistant.
This Pathfinder Watch for men has been made by Casio. The watch charges itself from the sun, so does need some sun exposure to keep working. To extend the battery charge the watch does have an energy saving setting, to help it require access to light less often. It has a battery power indicator so you can monitor how much charge you have remaining.
The watch has many different features that make its great for those who spend their time outside, maybe camping or hiking. The watch has an inbuilt compass, a barometer, an altimeter, it can also show you the phases of the moon and give a tide graph. The watch has a scratch resistant face, the resin bracelet with buckle has been created to be comfortable while you wear it, without the issues a metal band can cause. The watch is also water resistant up to 200 meters (600 feet).The Pathfinder Watch uses Japanese quartz movement to give it accurate timekeeping. The time and other information is displayed in digital form on the watch face.
The Pathfinder Watch costs $304.00 and qualifies for free delivery.