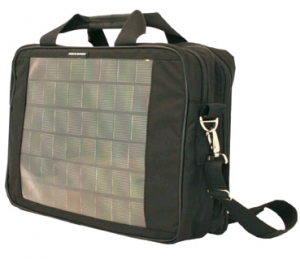 The Profolio Solar Bag is an example of a green gadget, one of many solar-enabled clothing products that are reaching the market. The solar attaché bag has room for a 17inch laptop and a variety of gadgets using its many internal pockets. The solar panel can produce up to 6.3Watts of electricity to charge up your devices, but strangely is no good for charging your laptop!
The manufacturers claim that the solar panel needs to be four times larger to be able to power a laptop. I don't think we'll see solar-powered laptop charging bags for a while then, at least until we've got more efficient solar cells. The solar bag will, however, charge a number of small gadgets, such as PDAs, games consoles, mobile phones, digital cameras, MP3 players or simply rechargeable batteries.
The bag is waterproof, hard wearing, strong and practical. I look forward to seeing future models that include a rolled up solar cell for charging a laptop too! The Profolio Solar Bag is currently available for sale for just under $300.
Source: Alternative Consumer