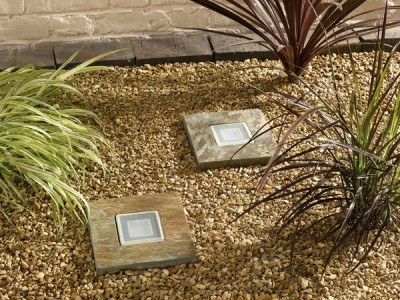 The Slate Step Lights are solar powered lights formed into robust slate steps. Each light is set into a natural slate tile to provide safety lighting to a path or ambient lighting to a garden.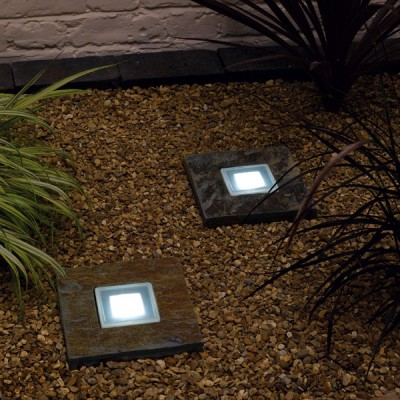 The Solar Powered Slate Lights come in a pack of two, each one has a bright energy saving white LED in the center of it. The LEDs provide good lighting from low amounts of electricity, and allow each slate step to provide decent lighting to highlight a path or feature in your garden. The lights are solar powered through integral solar panels, so some thought must be given in positioning them to ensure that the internal rechargeable Ni-MH batteries receive enough charge through the day to adequately illuminate your garden at night. When the batteries are fully charged the lights can provide up to 8 hours of illumination.
The Slate Step Lights are made from natural slate and resin, with the light fitted flush to provide a safe surface for stepping onto. Each step is durable and hard-wearing helping them to stay functioning and looking good for a long time. The steps measure 20cm x 20 cm (7.9 in x 7.9 in) and will automatically light itself once dusk falls. These slate lights provide you garden with lighting powered from an eco-friendly source, allowing you to light up pathways or features for either safety or aesthetic reasons.