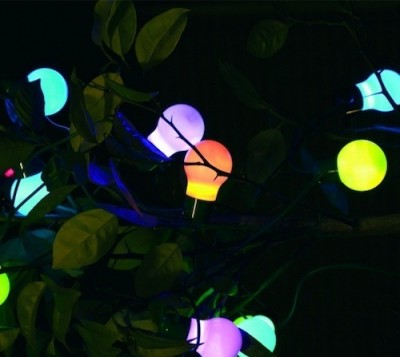 This Smart Party Light String provides you with 24 colourful LED bulbs to decorate your outdoor areas with. Powered in an eco-friendly way by using a solar panel, these lights can be placed to light up an area or feature, or even create one, helping you add a party feel to your outdoor areas.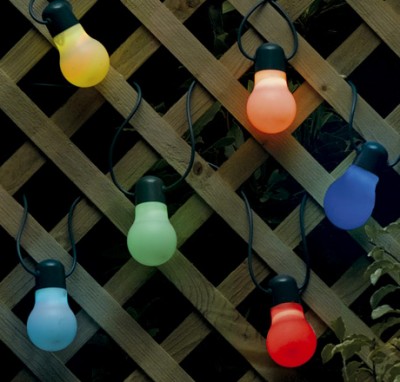 The Party Light String has been created by Smart Solar to provide bright and colourful lighting for your outdoor areas, perfect (as the name suggests) for parties. The light string comprises of 24 colour changing LEDs each housed in a 5cm wide light bulb shaped cover. The lights are set out along a 11 m (37 ft) string, with an additional 2 m (6.5 ft) between the last LED bulb and the solar panel. Though some thought must be given in positioning the light string due to the use of solar power, the added distance between the lights and the panel provides you with increased freedom to place the solar panel in a position where it can best make use of the light in your outdoor area, while being able to position the lights themselves in a darker, even shady spot.
The solar panel unit has in internal rechargeable Ni-Mh 1200mAh battery, when fully charged this can provide you with up to 6 hours illumination from the light string. The lights automatically illuminate when dusk falls, lighting up whatever they have been placed, be it in a bush or tree, or over a trellis or doorway. Due to the use of solar power the lights are simple and easy to install, they cause no long term running costs and can provide you with beautiful eco-friendly lighting for years.
The Smart Party Light String are just £34.99, plus a small delivery fee.