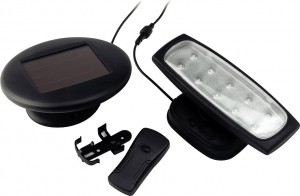 Most solar powered security lights automatically switch on when motion is detected, however, the Solar Mate Point 5 is a little different in that it is switched on and off via a keyfob remote control. The battery is charged up via the solar panel during the day, and a fully charged battery gives you around 3 hours of continuous light.
The light has a total of 10 bright LEDs and an internal battery pack of 3 AA rechargeable batteries. The LEDs are bright enough to cover a 7 square metre area with light. The solar lamp is connected to the solar panel via a 1.7 metre wire, which allows the solar panel to be placed for optimal sunlight.
The remote control requires 2 x AAA batteries, which probably has a transmitting range of between 10 and 30 metres. You can also switch on the light without the remote control by using the button on the light itself.
The Solar Mate Point 5 costs just £19.99 from Maplin.