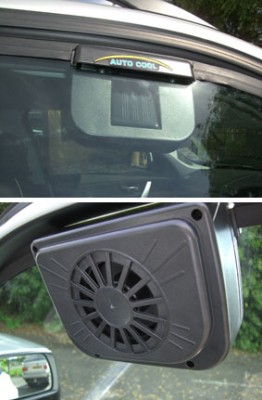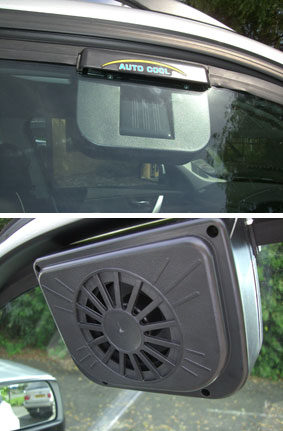 The Solar Power Auto Cooler is a ventilator to help cool your car on a hot day. The vent unit is designed to be secured onto the top of a car window to allow it to extract the hot air from inside to help cool the interior of the car.
The Auto Cooler has been designed to help alleviate the problems that heat trapped in a car can cause. Hot cars are not nice to get into, the stifling air is not pleasant, nor is it nice to touch the burning hot dashboard or steering wheel. The heat can also cause damage to the interior, leather can be weakened by this heat.
The cooler uses a solar panel to supply the motor with electricity to rotate the fan blades. The fan helps to extract the hot air from inside the car to help keep the car cool and preventing the heat from building up. The cooler is securely attached to the top of a window hooking over the window's edge, the window needs to be closed to keep the vent in place. The ventilation unit comes with full instructions for fitting it to the car window, when these instructions are followed the makers claim that the car is safe and secure and that the vent does not pose any additional risk to the car being broken into.
As the Car Cooler Fan is solar powered it does require sunlight to operate. Luckily days when the ventilation is most needed are usually bright and sunny, though if the solar panel that is inbuilt into the device is not in sunlight the unit will not work effectively. There is some concern that the unit does not provide enough extraction to make much of a difference to the heat levels within the car, it should at least help to remove odors building up inside the car.
The car cooler fan costs just £12.95.