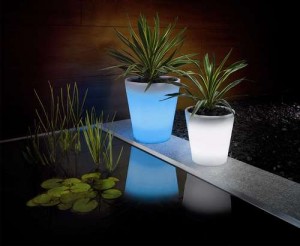 The Solar Powered Glowing Plant Pot is an attractive alternative to the boring old flower pots you might have around the home. Using a solar panel, the plant pot charges up during the day and gently glows during the night. Depending on how much sun light you get, you can get between 2 to 8 hours of glowing pleasure before the battery runs out.
The plant pot comes with a solar panel on a 3 metre length of cable. This means you can position the solar panel to get the best sunlight. The solar panel fits on top of a plastic stake, which means you can mount the solar panel in the plant pot if you wish.
There's a solar plant pot that glows white for £19.95, and a colour-changing plant pot for £22.95. The plant pot is not 100% water-proof, so you just need to ensure it doesn't become too saturated in water.