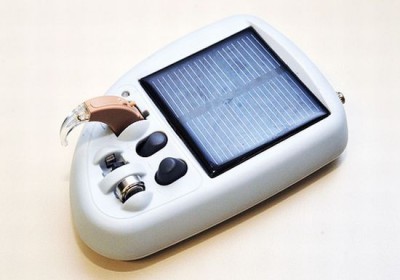 The Solar Ear is an innovative design for a hearing aid that is both low in cost and eco friendly. By using solar power technology and cost effective manufacturing it aims to bring sound to the millions globally who are deaf.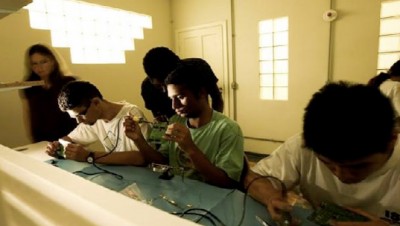 Howard Weinstein created this solar powered hearing aid, named Solar Ear, specifically for those in rural areas world wide where electrical power and money are scarce. This project has been nominated as a Tech Award Laureate. The solar powered digital hearing aid has been created to help the millions of people globally that are deaf, giving them sound and aiding them to get jobs. It is estimated that there are around 600 million people that are deaf globally, but only 8 million of these have hearing aids. The reasons for this are that hearing aids are very expensive and often the people have no access to electricity or batteries to charge them.
The Solar Ear unit is a palm sized device that charges two AA rechargeable Ni-Mh (1600mAh) batteries through its solar panel. In direct sunlight the unit should take between 6 -8 hours to fully charge these batteries, which should retain the charge for about a week and also power the hearing aid/hearing aid batteries for about this time too. The AA rechargeable batteries then power the hearing aids batteries by the hearing aid or its batteries being placed into the unit for charging. This way the unit can charge on a windowsill during the day, gaining full charge, then the hearing aid itself charged over night while it is not in use. The batteries are thought to have a lifespan of around 2-3 years/300 charges, this compares well to traditional hearing aid batteries that are replaced weekly.
The manufacture of the product also helps those that are deaf as the company employs deaf people to construct the devices. The cost of the device is kept low (retails for about $100, with a replacement battery costing about $1) and there is no patent on the device, which should allow for others to create it cheaply as well. Currently the Solar Ear can be found in Brazil, Botswana, and Palestine's West Bank, the company hopes though to expand into Mexico, China, India and Canada in 2010.
Source: GreenMuze