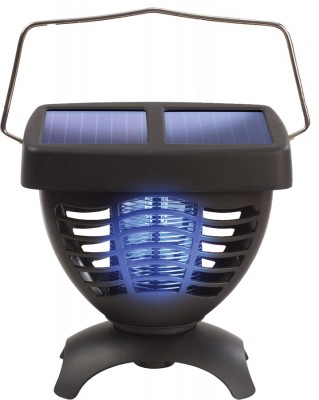 The Solar Powered Insect Killer by Gotcha helps to keep your evenings insect free, both indoors and outdoors. And the great thing is that you don't need any batteries or mains power supply.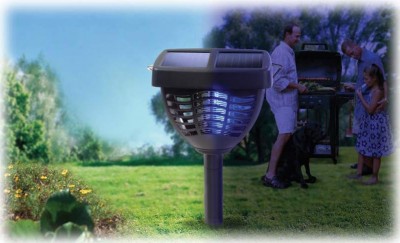 This Solar Powered Insect Killer works by attracting the insects and bugs with a bright LED light. This light draws them into the high voltage grid which kills them. The LED light and the high voltage grid draw power from the internal rechargeable battery, which is charged by two solar panels that have been built in to the top of the device. Because the device is solar powered it can be placed anywhere it is needed, however during the day time it will require direct sunlight to charge fully. Once the battery is fully charged the insect killer will operate for around 5 hours, it starts to work automatically when dusk falls to help provide you with insect free evenings. The special LED light attracts mosquitos, midges and biting flies into a high voltage grid, which then kills the bugs instantly.
The Solar Powered Insect Killer can be placed wherever it is needed, it comes with a stand to allow it to be placed down on a flat surface, a ground spike to secure it in soil, and also with a handle that can allow it to be hung up. Because it comes with a handle and takes its charge from sunlight, the device can be easily transported to whenever you require it.
The insect killer can be used indoors during the evening, either taken inside after charging outside all day, or it could have charged during the day on a bright windowsill. It is portable enough to travel out to camping locations or to an outdoors event anywhere. The insect killer measures approximately 19cm x 18cm (7.5 in x 7.1 in), though when placed on the ground spike the unit becomes around 52cm (20.5 in) high.
The Solar Powered Insect Killer costs just £18.74 plus delivery.