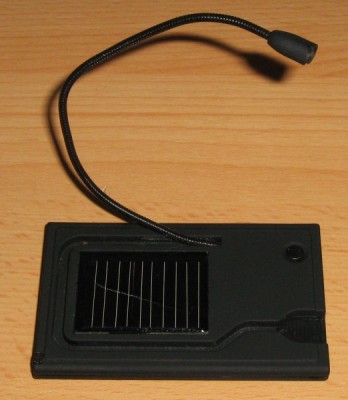 Book Light - Standing Up
The Solar-Powered Book Light gadget was sent to me to review by Useful Things who specialise in practical and inexpensive gadgets for the home, office and for traveling. Essentially the gadget is a compact LED light for reading your book at night, which charges up during the day via its solar panel.
The book light does feature a robust clip on the rear to allow it to be clipped to a page on a book. However, from using the gadget, it was hard to get the perfect angle with the bendable light when it was clipped on to the book. I found that it was much better when the light was free-standing on a nearby surface. What was surprising was how bright the light was, it really was bright enough to light up the entire page.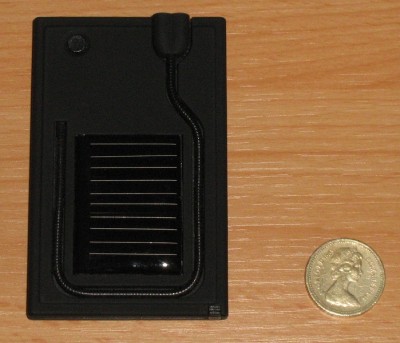 Book Light - Folded Up
I've not managed to run down the battery yet, and that's using the light for an hour each night, and leaving the light in a bright place (but not direct sunlight). So the solar panel is clearly effective and perfectly suited for its application. The LED light is switched on my clicking the little button in the corner. The switch makes a good solid click when you press it, so you know you've switched it on properly.
The only small limitation with the solar-powered book light is that the bendable part of the light doesn't stay in position as well as you might hope. It behaves a little more like plastic than it does metal, as in it bends itself back a little bit. Apart from that, it's a very practical little light, and surprisingly effective given how little it costs. I definitely recommend the solar book light!
The Solar-Powered Book Light is available for just $11.95 plus shipping, which starts from $4.99. Thank you to Useful Things once again for allowing me to review the gadget.
Disclaimer: Although I was given this gadget to review, it has in no way influenced my opinions in this product review. This review reflects my personal and honest perspective on this gadget, and this perspective has not been biased in any way.