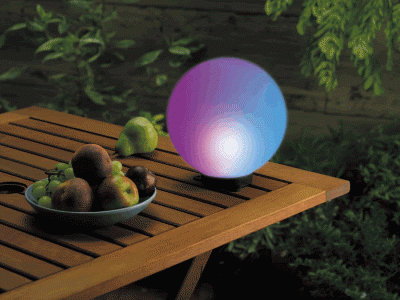 This Solar Powered Magic Globe Light can bring a touch of fantasy to your garden. The light smoothly changes through a rainbow of colours after dusk has fallen, creating an attractive feature in your outdoor area. The light can be placed on any surface and can even float in water!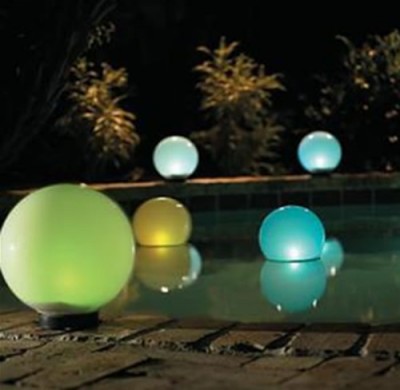 The Solar Powered Magic Globe Light makes a beautiful addition to any garden, great for those who want to add light and colour to their outdoor spaces without wanting to run up their energy bills. The globe light has a solar panel that has been very cleverly and discretely placed internally in the base of the globe. The light uses RGB LEDs to produce the illumination, this allows it to produce a wide range of colours while requiring very little electricity. The light has 3 different lighting options; it can change colour every other minute, continuously cycle through a spectrum of shades, or it can be stopped on a specific colour.The light can produce 10 different shades, yellow, magenta, red, green, lilac, orange, blue, mint, purple and white.
The Solar Powered Magic Globe Light uses solar energy to power the LEDs, this energy is stored in the internal replaceable and rechargeable Ni-MH batteries. When fully charged the batteries can provide up to 12 hours of illumination through the night. Due to the use of solar energy, the light must be positioned throughout the day in a place that will allow it to receive sufficient light to charge its batteries enough. The light is easily moved, allowing you to position it to charge through the day to then move it to a shady corner as dusk approaches.
The Solar Powered Magic Globe Light is a beautiful colourful light that can be used to decorate your outdoor spaces including floating on water features such as ponds or pools. The light is suitable for creating an attractive feature on a table for a party or to add colour to a boarder during night. With no wiring or need for any complicated support, the light can be used in a variety of ways to suit your needs, without running up large energy bills.
The Solar Powered Magic Globe Light is just £25.99 plus delivery.