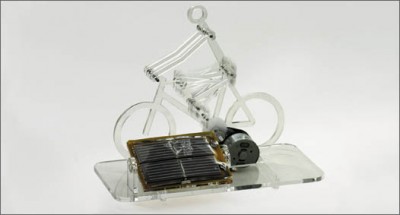 The Biker Kit is a solar powered model made from perspex. When placed in bright light the legs of the biker start to move as if he was really cycling.
The solar biker kit is delivered in kit form. It is constructed from pieces of laser cut perspex that can be easily slotted together by following the instructions provided, without the need for any glue to secure them. The solar panel has been placed on the top of the base so it can take advantage of any light, though some thought should be used concerning the placement of the solar panel to take advantage of any natural or artificial light source. The solar panel is large enough to make use of even a relatively weak artificial light so the model is suitable as a desk toy for an office.
The Biker Kit can be used as an educational aid to help teach children about solar power. Because the model comes in kit form the child can get involved with it fully, learning how the parts go together and visually experiencing how effectively light energy is converted into electrical power to turn the bikers legs. The Kit is for ages 6+, though this is mainly down to the small parts in construction, a younger child can still enjoy watching the model and learning about solar power with an adults assistance.
The Solar-Powered Perspex Biker Kit is available for £21.95.