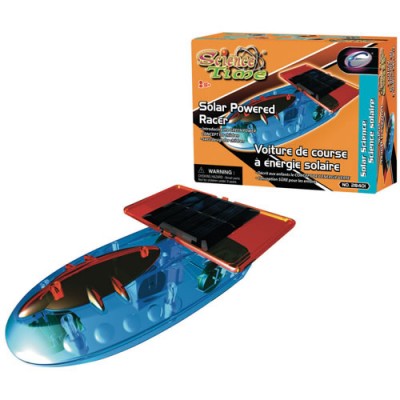 This Solar Powered Racer is a great way to educate children through play. It effectively demonstrates the abilities of solar panels in converting sunlight into electrical energy, this energy is then used to power a motor which causes the racer to race along. The Racer then shows a child how sunlight can be turned into movement.
The Solar Powered Racer has been created by Science Time as an educational toy to show how solar power can help provide the world with clean, free energy. The racer kit comes with detailed instructions for constructing the toy, which detail how the 8 parts it comes in are easily fitted together. The racer kit is suitable for children aged 8+, though this seems mainly down to the smaller parts in construction, younger children may enjoy watching the toy race once it has been constructed under adult supervision.
The Solar Powered Racer once constructed requires only light to work, this can be provided by direct sunlight or a bright indoor light bulb (though for educational purposes using sunlight would be best). This toy should provide a child with hours of enjoyment from constructing the racer to watching it work.
The solar racer is available for just £7.45 plus delivery.