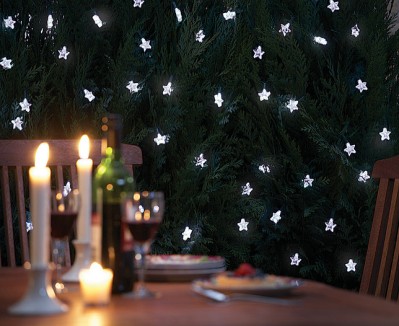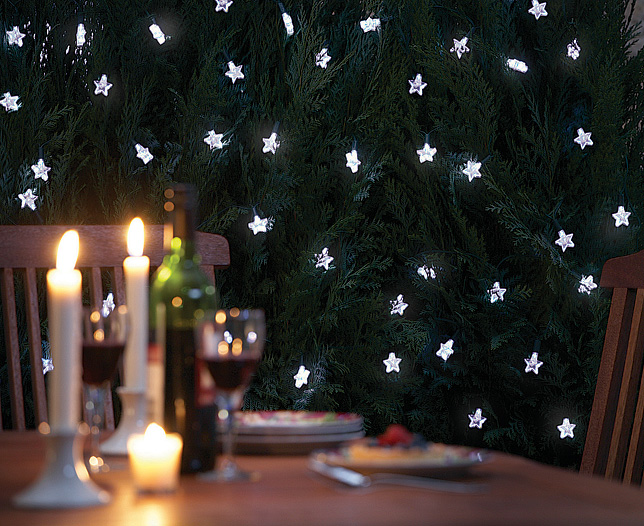 Solar Star Lights can illuminate any garden with their white LED lights. These weatherproof lights can be used to decorate many different garden elements like trees, bushes and archways, bringing light to shady spots as night falls.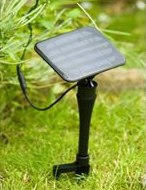 The Solar Star lights use a separate solar panel which can be staked a short distance away from where you wish to hang the chain of LED star shaped lights. The lights then can be placed into a shady area of garden without worry of lack of sunlight, while the discrete solar panel takes advantage of a sunny spot nearby. The solar panel measures 40.6cm high by 15cm wide (16 inches x 6 inches). The lights do not turn on until the solar power panel detects that dusk has fallen, switching from charging to supplying power to these lights.
The Solar Star Lights come in strings that are 7m (23ft.) long (double packs are available). Each string comprises of 50 LED lights, each with a transparent star shaped cover. These energy-saving LED lights provide up to 6 hours of light each night. In winter, when the solar panel may not achieve a full charge, the rechargeable lead acid batteries can be charged in an indoor charging unit or replaced. Fully charged batteries can operate the lights for 15 nights without any sunlight to charge them.
[ecu size="small"]29587[/ecu]