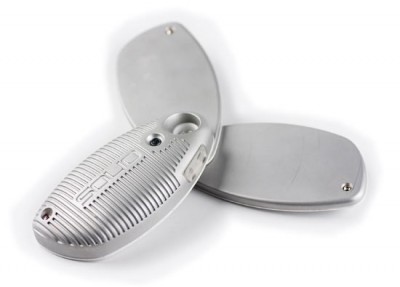 The Solio Mag is a solar-powered hybrid charger by Solio. Designed to maximize efficiency by being both an incredibly powerful charger and a highly versatile one, the Mag is a modern-looking charger for use on portable electronics anywhere.
The Solio Mag is made from a magnesium alloy casting which helps make it very durable, helping to protect it from heat and impact. The design allows the three inbuilt solar panels to be positioned to best take advantage of light in an area to charge the device's internal 1800Amh Lithium-Ion battery.
Solio state that the Mag is compatible with over 3200 devices like mobile phones, PDAs, iPhones, iPods, MP3/MP4 players, GPS devices, cameras, and many other portable electronic devices. Able to charge from both USB ports and mains sockets as well as from the solar panels the device ensures you are always able to ensure it is fully charged and ready to go when required. The Mag can achieve full charge in around 10 hours from the solar panels. This allows it to charge a standard mobile phone twice, or provide more than 20 hours of charge for an MP3 player.
The Solio Mag is available for around $96.68 plus shipping.