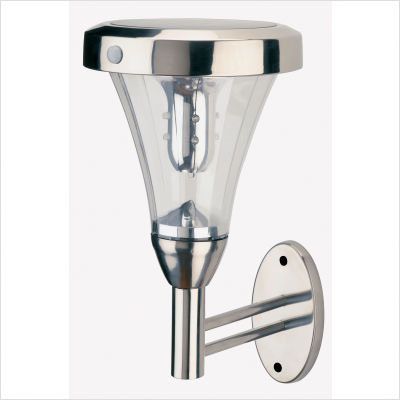 This Stainless-Steel Solar Wall-Mounted Security Light provides added safety and security to your outdoor areas. Perfect for use for a driveway or porch, the light automatically turns itself on once motion is sensed, lighting your way or alerting you to move outside.
The Stainless-Steel Solar Wall-Mounted Security Light uses a Passive Infra-Red (PIR) sensor to detect any motion near to the light. The light has two different settings, in the winter setting when motion is detected the light activates the 9 LEDs in the lamp, in the summer setting one LED will be constantly on, and the remaining LEDs will activate when motion is sensed.
This Solar PIR Light is provided with both a stake attachment and a wall mount, giving you greater freedom to place the light where it is required most. The stainless steel light features a solar panel on the top of the lamp, allowing it to charge its internal battery when it is in daylight. Some thought must be given when placing the lamp to ensure that there will be adequate light to provide energy to illuminate it at night. On a full charge, the lamp should provide you with up to 50 lighting operations.
The Solar Light is ideal for security or a welcoming light for your outdoor areas. Quick and easy to install the eco-friendly light can help provide added safety for your outdoor areas, lighting up any hazards such as steps, while incurring no long-term running costs.
The Stainless-Steel Solar Wall-Mounted Security Light is just £28.75 with a small delivery fee.