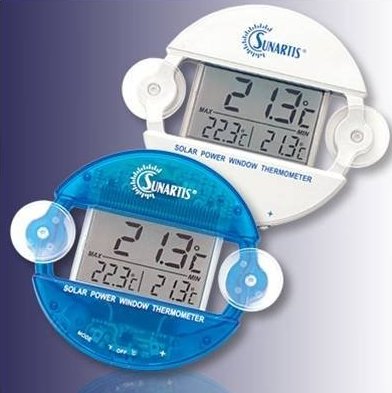 This Solar Powered Window Thermometer can be easily stuck onto any glass surface but is designed to be placed onto windows with its suction cups. The thermometer is solar powered so there is no worry about batteries running out or replacing them. The device can be placed either inside or outside on the window pane.
The Solar Powered Window Thermometer has a built-in solar panel on the back of the device, so by placing it on a window that is exposed to sunlight during the day you ensure the device always has enough power.  It has a large LCD digital display which gives the current temperature, and the daily maximum and minimum temperature from the last 24 hours.  The maximum temperature is taken through the day time (between 8am and 8pm) and the minimum temperature is taken during the night time (between 8pm and 8am).
The Solar Powered Window Thermometer can be moved whenever necessary due to its transparent sucker pads. The device measures 10cm (4in) in diameter. The temperatures can be displayed in either degrees Celsius or degrees Fahrenheit and the thermometer has a display range of -20° C to 60° C (-4° F to 140° F).
The solar-powered thermometer is available for $25.10.