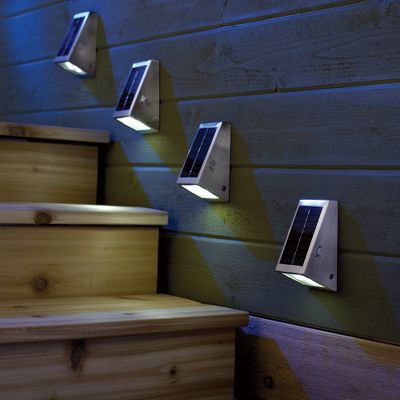 This Solar Stairway Light allows you to light up any stair, step or other such low ground hazard in your outdoor spaces simply and effectively. The light is easily attached to a wall or similar structure next to the hazard to provide eco-friendly powered illumination at night.
The Solar Stairway Light has been designed to be placed on a wall next to the step or other such hazard in your outdoor space. The light provides you with added safety ensuring that the hazard is clearly seen by all even in the darkest of nights. The light is powered through its large solar panel that allows it to charge its integrated battery during the day, from a full charge this battery will provide you with enough electricity to illuminate the area for up to 10 hours.
The elegant light is constructed from a sturdy weather resistant brushed stainless steel, allowing it to be left in position all year round. The light uses 4 LEDs to provide a bright focused light that provides you with a 46 cm (18 in) cone of illumination. Multiple lights can be purchased to light up either a large set of stairs or separate hazardous areas in your outdoor space.
The Solar Stairway Light has an inbuilt light sensor allowing the light to turn on automatically once dusk falls ensuring your steps are lit when it is required. Due to the use of eco-friendly solar energy the light requires no complex wiring, and can be positioned quickly and easily where it is required most, though some thought must be given to ensure the light receives adequate sunlight during daylight hours to charge effectively. The light provides your outdoor spaces with added safety without adding any stresses over long term running costs or complex wiring.
The Solar Stairway Light is just $39.95 per light.