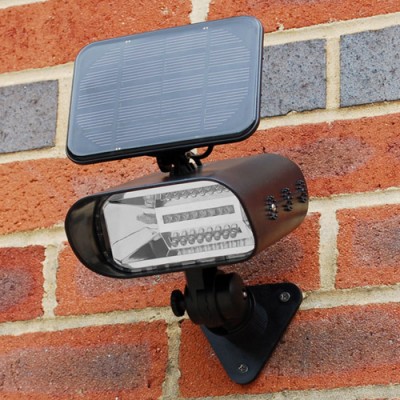 The Thea Solar Garden Spot Light is a powerful, bright light that uses eco-friendly solar energy as a power source. The light can be wall mounted, deck mounted or even staked into the ground, allowing you greater freedom to position the light wherever you require it.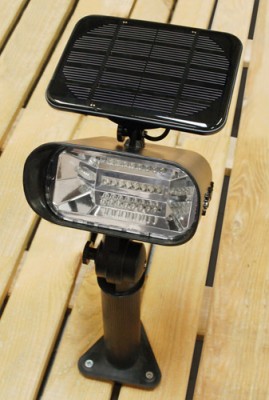 The Thea Solar Garden Spot Light has been designed to provide you with a robust, versatile spot light. The light is constructed from toughened black plastic, which allows it to be outdoors in all weathers. By using 8 super bright LEDs to produce the illumination, the spotlight is able to produce as strong light source from very little electricity. The light is able to produce a light beam of up to 15m and automatically illuminates once dusk falls.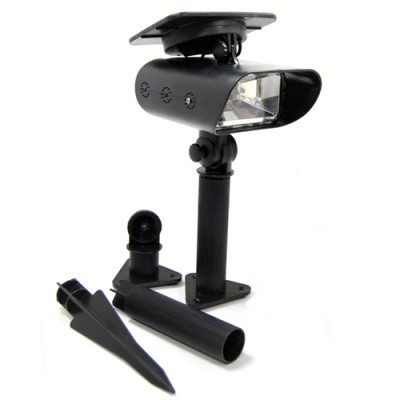 The Thea Solar Garden Spot Light uses 3 rechargeable 1500mAh Ni-Mh batteries, these can be removed and charged in a home charger on extremely dull days. The spot light is supplied with 3 different mounting options, a garden stake, fence or wall bracket and deck mounting bracket. These options help to provide you with greater flexibility in the positioning of the light, though some thought must be given to positioning the solar panel where it can best take advantage of any light present. The solar panels angle can be adjusted to help achieve this.
The Thea Solar Garden Spot Light  is a great all round garden light, able to light up outdoor areas for added safety and security in the dark or to illuminate outdoor features at night. By using solar power, the light requires no complicated wiring, it is quick and easy to install and will incur no long term running costs.