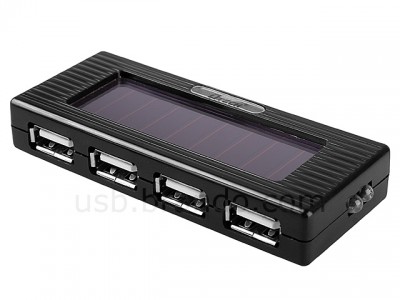 This USB Solar Charging 4-Port Hub with Torch can be used as a 4 port hub for your USB needs and moreover as an emergency charging station for your portable electronic devices. The hub comes with a range of connectors and cables and also has two LEDs built-in to allow you to use it as a torch.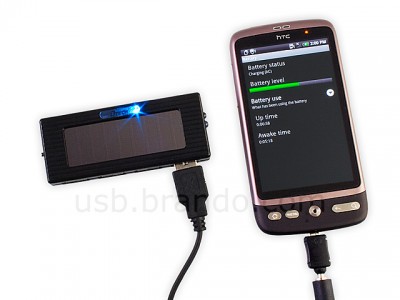 The USB Solar Charging 4-Port Hub with Torch has an inbuilt rechargeable lithium 1300mAh battery. This battery can be charged through the solar panels that are located at the top of the hub, or through the USB port if required. The hub has LEDs to alert you to the batteries status, to the charging status of the hub and to indicate if the hub is charging a electronic device. To charge your devices from eco-friendly electricity you will need to remember to place the hub in bright light to charge the internal battery.
The 2.0 USB hub points can be used as a normal hub, connected to your PC or laptop to allow you to plug in multiple USB devices. Due to its battery and solar panel it can also be used as a store of power to provide your portable electronics a boost of electricity when needed. The hub comes with charging connectors for a range of phones such as Nokia, LG, Samsung, Sony Ericsson. It has both micro USB and mini USB connectors allowing you to be able to charge a wide range of modern portable electronic devices and includes a 2 LED torch inbuilt into the hub itself.
The hub measures roughly 8.5cm x 3.6cm x 1.4cm (3.35 in x 1.42 in x 0.55 in) and so is small enough to be easily portable, allowing you to take the hub with you wherever you go to provide a back up to your devices. The USB Solar Charging Hub can give your devices a boost of electricity when needed. As the battery can be charged from solar power you can use the hub to keep your devices charged from an eco-friendly power source. It does not have a large battery though it will allow a decent boost of power to most devices.
The USB Solar Charging 4-Port Hub is yours for just $22.00 plus shipping.