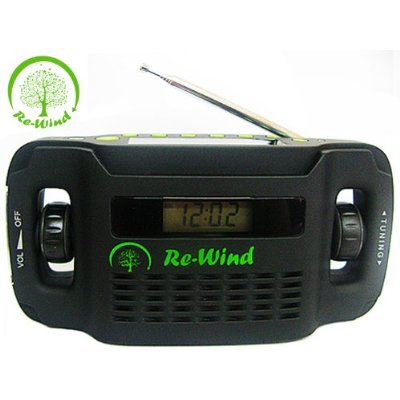 This portable radio by Re-Wind can be charged through both winding the handle, by solar power, or through its USB cable to ensure you can always charge its battery. The radio also includes a bright LED light, and an alarm clock built into the system, it can additionally be used to charge certain other portable electronics through a charging cable.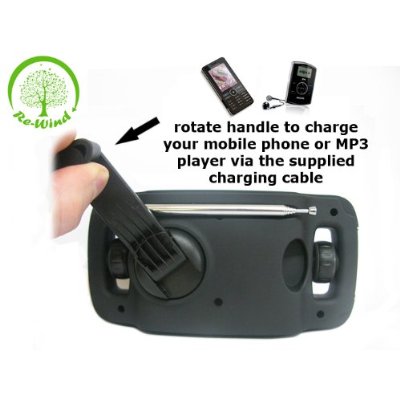 By either winding the handle on the device or by placing the radio in sunlight you can charge the device's internal battery to provide you with electricity to run it. The handle is located at the back of the device and is easily turned and the solar panel is located on the top of the device to help take advantage of any light about. You can easily see when the device is charging as it has a charging light indicator that turns red when it is receiving charge. If for any reason you can neither charge it by winding or by sunlight, the radio can be charged through a USB port on a computer or laptop through the USB cable provided.
The FM/AM radio also includes a clock that has an alarm function built-in, perfect when you have taken the radio out and about. The device additionally has a built-in LED torch, which has 3 LEDs to provide a bright directional beam of light when you require it without using much electricity. Once the device is fully charged it can provide you with 9 hours of radio and clock use, or 6 hours of use as a torch. The radio measures 7.5cm x 50 cm x 5.5 cm (3 in x 19.7 in x 2.2 in) allowing it to be portable enough to travel with you wherever you need to go without the bulk of packing a radio, alarm, and torch at once.
The Re-Wind Hand-Powered Portable Radio and Torch is available for £14.95 plus £2.35 shipping.