By Anita (EnviroGadget Writer) on March 11th, 2011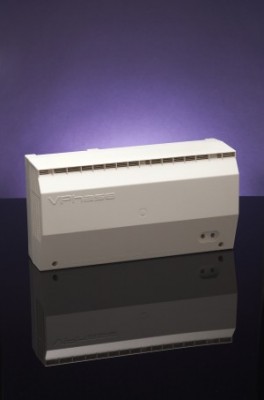 The VPhase Unit is a device that is installed to your fuse box to help reduce your electricity consumption. The unit uses voltage optimisation, reducing the flow of electricity to the devices in your house down to a constant 220v, instead of the 240v – 245v you could otherwise experience.

The VPhase Unit reduces the incoming supply voltage to a stable level of 220v, which is enough to run all your standard household devices. Generally the incoming supply voltage is often between 240v and 245v, at times this can even peak higher (which is why many of us use surge protectors for our delicate electronics). By reducing the voltage to 220v the unit is thought to help save you roughly 10% of your electricity usage, though the exact amount saved varies by device. Some fridges and freezers will have around 17% of their energy use saved, and around 10% can be made even on energy saving light bulbs.
All these small savings can add up to a large amount over time, helping to reduce the amount of electricity you are using, which helps to reduce your energy bills and your carbon footprint. Though the unit does require installation to your fuse box by a qualified electrician, once installed the unit will work unobtrusively helping you to save on electrical usage.
Source: VPhase