Home heaters are widely used across the world to regulate room temperature in cold climates. Instead of using regular fuels to power heating furnaces, biofuels can be used to power a room heater. They are generally powered by blended biofuels, which are synthesized from natural oils, thereby decreasing our dependence on traditional fossil fuels. These biofuels do not contribute much to greenhouse effect, as the carbon dioxide they emit is again utilized by plants, and are also cost-effective. Also when compared to oil based furnaces, they are less polluting, as they emit less soot and lower amount of toxic gases.
The main disadvantage of using biofuels for furnace heating is that they tend to gel at colder temperatures, which makes the fuel in the heater less combustible as it does not easily move in the unit. Ideally, the fuel must be above the 36-50˚F range to prevent it from gelling. One such solution is using of chemical additives, which tend to lower the rate of gelling. However, they also tend to decrease the energy output, and also emit pollutants while being burned. Instead, you can opt for an external oil heating mechanism, which would regulate the biofuel temperature, and would preheat it in colder weather conditions. An example is the THU400Xoil heater unit, which integrates with your existing furnace, and maintains the temperature of the oil tank to a preset 40˚F. This would increase the efficiency and usability of your existing heater, and also would omit the need for using chemical additives which reduce your heater efficiency and cause pollution.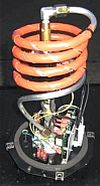 The unit has a built-in immersion fuel sensor which checks the temperature of the oil tank. If the temperature decreases below 40˚ F, the sensor automatically activates the electric heater (400W), which raises the oil temperature in the tank to the required level. The unit is designed to regulate the temperature against going below or above the preset 40˚ F, and the built-in heater would get activated/deactivated as required. The unit requires an electric power source and weighs 8.5 lbs. It measures 6'' in diameter and 14'' in height, and can be used between 30-85`F. It can be safely installed to integrate with your existing heating furnace, and you can start saving by using cheaper biofuel alternatives.
You can purchase the kit from the below link.
https://www.biodiesel-kits-online.com/heating-oil.html#How it works and specifications - THU400X