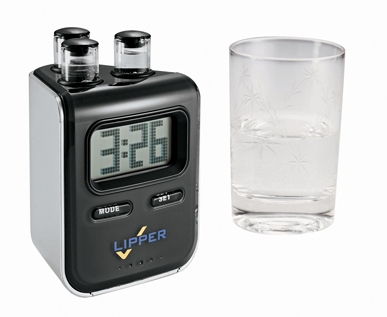 The Leeds 1025-77BK Elements is a eco friendly water powered clock. The clock has a large, clear LCD screen for its display that is powered by water you place into the clock.
The Leeds 1025-77BK Elements turns water into electrical energy which it uses to power itself and its LCD display. The LCD screen measures 4.8 cm x 2.2 cm (1.875 in. x 0.875in.) which helps to ensure the information it displays is clear and easily seen. The clock can display both date and time on its display. As the clock is powered by water it can be placed wherever it is required, though some access to it is needed to allow you refill the clock with fresh water when it is required. After the clock has been filled with fresh water, it should provide enough electricity to operate itself for around a week and a half.
The clock measures 8.3 cm x 7 cm x 10.8 cm (3.25 in. x 2.75 in. x 4.25 in.). It comes with complete instructions for use and also includes a back up button battery, to help the clock function even when it has run out of power from the water. This ensures that it displays the time whenever you need it.
The Leeds 1025-77BK Elements Water Powered Clock is available for $20.10 plus shipping from Amazon.