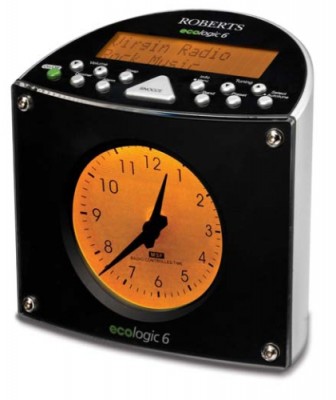 The Roberts Ecologic 6 is a compact DAB/FM digital radio alarm clock. The radio combines the traditional element of the analogue clock face with the modern technology of DAB radio and features low energy consumption.
The Roberts Ecologic 6 in black is a sleek and stylish radio alarm clock. The radio comes with 20 stations preset and can play both DAB and FM stations, the radio has an RDS system which allows the name of the FM station to be displayed when you are tuned in. The controls for the radio are simple to use via its menu, allowing you to select stations or set alarms with ease.
The Ecologic 6 has the ability to have up to 4 alarms set and can be set to sleep or snooze. The alarm can be set to wake you with either DAB/FM radio or with a buzzer, it also has a humane wake system which slowly increases the volume over time to wake you up in a more gradual manner. The time setting for the radio are updated automatically, allowing it to change from GMT to BST and back smoothly.
The radio uses the name Ecologic 6 as it features a very low energy consumption compared to other such devices. The packaging for the radio is cardboard that has been created from recycled waste paper and can itself be recycled. The Roberts Ecologic 6 alarm clock is only £84 and qualifies for free delivery too!