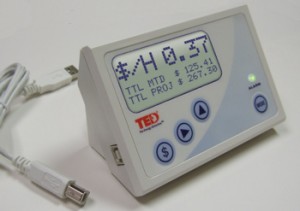 The Energy Detective is an energy consumption monitoring eco gadget that joins a growing line of energy monitoring kits that are appearing on the market. However, where this kit really stands out is the option to have their own full-featured computer interface kit that gives you all kinds of statistics and monitoring information. Something missing from pretty much all other electricity monitoring kits.
The basic technique for installing the electricity monitoring kit is to clamp an inductive loop around the mains power supply to your home. However, the installation of the transmitter unit requires a qualified electrician to install, as the power wiring of the transmitter unit goes directly into the distribution unit. This means there are no batteries involved with the kit.
The wireless receiver unit will then give you an accurate measurement of the energy consumption of your home, with new data every 2 seconds. You can set up the receiver with all of your electricity tariff settings so that it gives you a very accurate calculation of what you can expect your energy bill to be.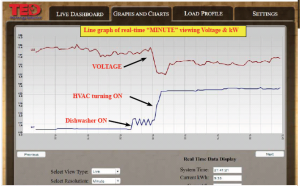 The real value in this kit is the special software that you can also get, that gives you detailed log information (examples, PDF format). This log information can give you a better understanding of your usage and what devices in your home are the most energy deviant. By identifying the worst offending devices in your home, you can massively reduce your carbon footprint by getting rid of them.
The only downside about the kit is that the USB meter with the software costs around $190. It does save a lot of hassle compared to other units when it comes to energy monitoring, but you've still got to get an electrician to install the transmitter. Other units I've seen you can do yourself as the transmitter is battery powered. A great kit for novices I think though.