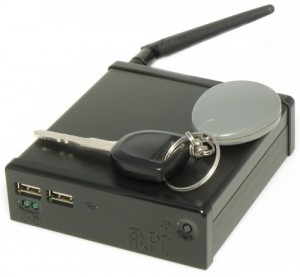 Yet another eco-friendly technology has hit the market, a low-powered PC called the Fit-PC Slim. Not a great name I admit, but clearly, they want to emphasize their brand name in the product title. This PC is only 110 x 100 x 30mm in size, with many features you'd expect from a desktop PC. Oh, and it only uses 4 to 6 Watts of power!
The Fit-PC Slim sports a 500MHz CPU, 512MB of RAM, ethernet, VGA output, 2 USB ports, a serial port, audio input/output, a 2.5inch Hard Drive option, and WiFi. It is now claimed to be the world's smallest system capable of running Linux or Windows XP. It uses a power adaptor to give it a 12V DC power supply, but the computer will happily run on an input voltage of between 9VDC and 15VDC.
Compared to the Aleutia, the Fit-PC adds the advantage of a standard hard drive, whereas the Aleutia has a compact flash memory card. I personally prefer using memory cards for system storage, as power consumption is much lower, and the boot times are shorter.

However, the fit-pc looks pretty cool though!
Source: Linux Devices