Nature Bag is a multi-purpose tote bag made from JungleVine cord obtained from Laos in Vietnam. Its crafted by an ethnic minority in one of the poorest regions of South Asiaand the project is funded by a group comprising of veteran disabled Americans. Bags made from the cord where originally used by the Khmu indigenous tribe to carry their essentials and while hunting. This should give you a fair idea of how rugged the bag would be.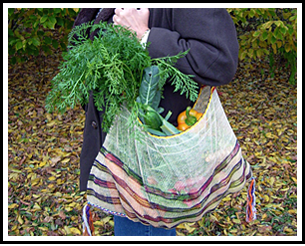 The JungleVine fiber has been used since ages as skin conditioning cloth and is said to have a healing effect on pores, wrinkles etc. It very strong ad lightweight and is dirt and stain resistant. The fabric maintains its strength and shape even after prolonged usage and exposure to damp environments. It's quite suitable for making a heavy duty and attractive tote bag. The site also sells the JungleVine cord as a fabric so that you can try using it in your designs. The fabric is priced at $1.00 and contains a unit of cloth no lesser then 7 grams and 10 cms in length.
The bag comes in various shapes and sizes along with many attractive design patterns. It's a perfect alternative to plastic bags as the material is derived from a natural source and is bio-degradable. It also provides a livelihood to the economically deprived community where most of the people are into this craft. The range is priced from $15 to $75, depending on the pattern and size.
The bag can be purchased from their website at the bellow link. You can also use the store locator link in their website to locate a retailer near you.  It's sold in USA, Italy, Canada, Thailand, Singapore and France. We also suggest apparel and accessory designers to check out their fabric sample to see if it can be used for making accessories for our daily life.
Link: http://www.naturebag.org/