Solar chargers are generally designed  to be placed in a fixed location, or need to be attached to a mount. This might not be suitable in cases where you are in the move, as in while trekking or camping. You might also not find it feasible to carry a solar gadget along with your regular gear. Here's a solution for such situations-in the form of a solar paneled bag which can be used to store your gear and also to generate power from exposure to the sun.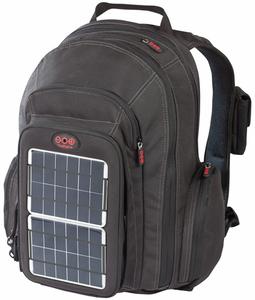 The solar panel is affixed to a rugged backpack which can be slung over your back. The bag is quite spacious and has a dimension of 1500 cubic inches. It can be used to carry and charge iPad's, mobile phones, PDA's, gaming devices, cameras and many more. The internal battery is made of Lithium Polymer and gives an output of 5.5 V&900Ma. It gets fully charged in 7 hours and can also be charged from an USB source or an AC power supply.
The panel is made of two 2 watt monocrystalline solar panels for an output of 4 W with 6-12 V.
The handy backpack weighs around 2000 gms (4.5 lbs) and has the dimensions of 18″ height,  16″width and  8″ in depth. The wire channels are placed all over the inside of the bag giving you a greater flexibility in charging your devices. A phone pouch attached to the shoulder strap can hold your phone while it's being charged. The device also has an LED indicator indicating the solar charge. It's made of recycled PET and is waterproof and UV resistant. You can choose from silver, charcoal and orange colors for the solar panel.
The Voltaic solar backpack comes with a warranty of 2 years. It's priced at $289 and can be purchased from the below link. The gadget comes with a universal battery pack, 9 different USB tips including the micro and mini tips.
http://www.earthtechproducts.com/voltaic-systems-off-grid-solar-back-pack.html