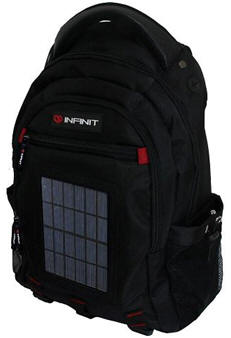 Where our world has been highly affected by pollution and external hazards, scientists are researching continuously eco-friendly products that might be helpful for our next generations. As human beings are approaching an unknown destination by use of modern science and technology and the making of destructive weapons and environmental hazards, the time has come to think about positive changes to save our next generations, otherwise, we may watch the explosions form our planet very soon.
Every hour, the sun is emitting as much light which is enough to use for humanity for their all-year requirements and a large amount of wastage. This energy is much to charge all the gadgets around the world and utilize this solar power for the benefits of our environment. The infinite solar charging bag has introduced a new era of gadgets batteries charging with no harmful effects for them. Solar energy has been found much a beneficial and cheap available resource to fulfill our current requirements while petroleum products are getting worthier day by day. A solar energy charging bag has been recently introduced, which convert the solar energy and get ready it for charging your gadgets.
This Infinite solar charging bag for a new generation is stylish, affordable, and not only convenient to use but the right choice to reduce carbon every day. Thanks to the inventors and thanks to those who use inventions for the benefits of human beings. There is no need to juice up our daily use gadgets when this solar energy charging bag is going to do this for us. As the summer sun rays have started to get out of Britain clouds, everyone is heading with legs in shorts and beer in hand to catch the shinning sun. You will definitely like an MP3 player to take with yourself for some recreation and adding music with sun rays. You will also need your cell phone to carry with yourself for a great gathering of friends or fellows in this summer sunshine, but what if the worst situation comes around there and you find your gadgets out of battery while there is great need of them. You cannot go home or find a switch to charge them; probably a portable media is required to charge them while you are away towards the beach.
Best features of solar charger bag
When you are visiting a park evening time or some open place where you can view the lights, you will find solar charging batteries with them. This is one of the cheapest energy sources which scientists have found for us. This solar charger bag features a 2.4-watt solar photovoltaic plat outside to gather and convert the solar rays and make them ready for charging in electrical voltage format. It is stored under a high capacity of 2000 mAH Lithium ions battery which has been stored in a pouch of this bag inside. Once this has been charged fully, simply detach the battery from the solar panel and you are free to charge thousands of devices using its latest designed connection outside. A list of compatible devices which you can charge including;
All generations of iPod Shuffle
All generations of standard iPod
All generations of iPod Nano
iPod touch devices
All the mobile phones from Blackberry, LG, Motorola, Sony Ericsson, iPAQ, Palm, T-Mobile with mini USB adopter and Micro USB adopter to charge Nokia, Samsung, iPhone, Palm, Blackberry and many other mobile gadgets from companies around the world.
Nokia adopter charges all the available slides, touch phones, and new as well as old models of Nokia.
You can plug your gadget and solar panel at the same time to charge them both.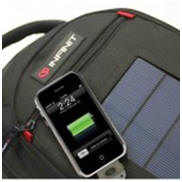 Anything from GPS devices to iPhone and Nintendo DS can be charged with this newly launched Infinite solar energy charger bag. This will facilitate the users to charge the gadgets by storing energy in a solar energy bag. Its battery can also be charged from the main electricity line if you want your bag to be ready with charging before going out of home for a long journey.
This is a great green way to charge your gadgets when you are far away from your home. Its battery is quite strong and can charge three times an iPad after fully charged with solar energy. This go green gadget requires a little fuss to attach many compatible devices to charge with its stored solar energy. Infinite solar charger bag is the best go-green product and not takes much time to charge a gadget of your choice. However, the complete charging of a gadget directly depends upon the time and intensity with which this solar energy has been exposed to the light.
When there is a bright day, it will hardly take 8 hours to fully charge with solar rays, while in case of bad weather and low sun rays, it may take up to 12 hours to fully charge. Although this Infinite solar charging bag is not currently supporting the laptops and notebook computers to charge, we have been waiting impatiently for new additions in this invention very soon. The weight of a solar charger bag is a total of 1.4 kg and it cannot be knocked. However, there are different pouches and panels offered with Infinite solar charger bag to charge the laptop batteries. As the inventions are going at a high proportion in a current competitive environment, it is expected to view many such other additions in the upcoming days. Its straps are padded heavily and easy to adjust. All in one, this bag is worthy for all the gadgets users to charge their gadgets while going out for distant traveling.
The usefulness of this bag can be experienced from how much time you have spent under the sun's rays. It has plenty of space and pockets inside it to store gadgets and keep them safe from breaking in long travel. But if you are living in dreary winter corners of the world, you might have to pay premium charges for using solar gadgets. However, if you are an outdoor hiking lover, you will not face any problem with charging this bag with solar energy, as this is available even in northern Europe in the daytime and you may get ready your bag for your gadgets. This goes green solar energy is worthwhile for a new generation when high energy requirements cannot be fulfilled with petroleum and hydraulic resource only. Daily deals and discounts are available on many websites and you can fetch them as soon as you decide to buy online with more than 50 % discount.