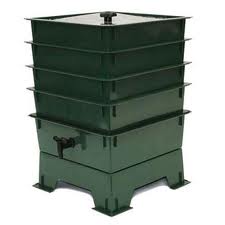 If you meet someone in the street or online there is usually a good chance that the person you are speaking with is doing something to try and become greener and better for the environment. There are many ways that we can do this but it takes time and a willingness to become green. Some may start out really small only changing a few things and other people may start out large, converting their home into one big green powerhouse. Unfortunately in this day in age, many of us cannot afford to do that so we choose to start out small and there's no better way to go green than to start worm composting.
What is Worm Composting?
Worm composting is taking some of our trash items such as food scraps, coffee grounds, and other items and putting them in a box with worms. The worms then digest this food and turn it into fertilizer for plants including flowers and vegetables. Worm composting is very popular and can help make a garden beautiful each year. It also helps eliminate waste and also serves as a great source of food and nutrition for the worms as well.
Where To Get Worm Composting Materials
There are different locations that will sell different supplies for your worm composting. You can look for different green materials such as eco-friendly boxes and other materials to begin your green composting work. Your worms can be purchased or if you want to be greener and more frugal you will look in your own backyard or in the woods for some worms. There are many around so you will not have any trouble finding some worms. If you want to go even greener you can construct your worm composting yourself using materials that you already have gotten. You can find materials and directions on how to build your compost online and at some home improvement stores.
Different Composting Materials
You will have the choice to either purchase materials or purchase a kit when you decide to start composting. There are many options out there for you to decide from. Here are a few materials that you may be interested in for your composting goals.
The Worm Factory All in one kit that even comes with a DVD showing you how to start your own green composting.
Can O Worms Great circular bin that can be used for great composting.
Uncle Jim's Worm Farma great starter kit filled full of gigantic red worms so that you can start your compost off as soon as possible.
Terra Cotta Worm Farm Great looking starter kit that will work well in getting you started with worm composting.
There are many ways that you can become green but using a green worm composting kit is the way to go if you want to cut down on your waste and have plenty of fertilizer for flower beds and gardens. Some people even sell the fertilizer to people and make a good bit of money off of doing so. Check into getting your worm compost operation up today so that you can go greener.