Change of weather has directly affected the tourists' spots and winter tourism is more enjoying when you love the snowfalls, sliding and bearing a fierce weather as tourist. To be an eco-tourist, summer is not enough for visits, but an addition of autumn and winter will also add to view beautiful sites around the world. The eastern countries are the best spots for winter season because there is no -40 Centigrade temperature and snowfall. The Asian Eco-tourist sites are still unmatched and uncovered for the winter tourists.
Travelers have started to plan their winter vacations with the change of seasons from summer to autumn. So this season where should you picture yourself? There are many brilliant sunsets and warm sandy areas still ready for the winter quest and here we will discuss in detail about ecotourism adventurous places, including India, Patagonia, Indonesia, China, South Africa, New Zealand and Australia. Here a blend of unique culture, natural sites and active soft adventures like bicycling, elephant back treks, rafting, kayaking and hiking are best ones to enjoy. You will love the meaningful educational lectures about incredible wildlife and history of these countries. We have selected the top seven winter ecotourism destinations and categorizing them on the basis of weather and adventures at each site.
South Africa

Although African history is too interesting and African tourism have been promoted highly around the world, still many sites in this country are uncovered for the tourists to explore. It would be right to say if we call South Africa the wildlife and natural scenes king, where true nature exhibits its beauty and fear all together. How you would experience the Victoria Falls and South Africa- atop a majestic elephant, on foot during easy scenic tour of hiking or through riding on the bicycle in Winelands? There are two tours which have been promoted by tourism promoting companies here. In 13 days new South Africa tour, the easy bushwalks at sabi sand game reserves and spectacular game drives are included. In 10-day Cape Town to Kruger tour, you will also get the spectacular game drives and bushwalks at Sabi Sand Game reserve too.
The Sabi reserves are the top private game reserves and they promote the highest game destiny in South Africa. The Africa Big five will been seen by most of the travelers here, Marvel as your game drives take you near giraffe, rhino, leopard, cheetah, lion, elephant and many birds and animals.
Myanmar/Burma

Burma/Myanmar has preserved its religious values and rich culture to extreme value as compared to its surrounding countries, although Burma is long isolated from outside world. Eco-tourists are here enchanted by monasteries, pagodas, temples and also enthralled by people of the Myanmar, whose smile is still unaffected from western style and they are quick to smile. There are different winter tourism packages for Myanmar and in this tour, you will get a brief lecture about Myanmar culture, natural sites and resorts while your stay in Bangkok before heading to Yangon. Yangon is a center of unique and incomparable Shwedagon pagoda. In your adventure, there is added the rainfall forests, temples and historical places, cruising by villages on stilts, floating markets of Inle lake hot air ballooning over the old kingdom of Bagan during evening.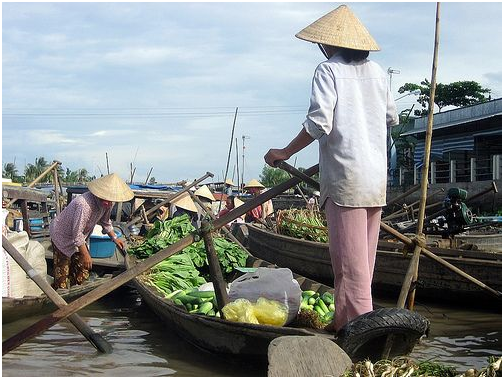 The country of Vietnam is towards peaks of economic growth and success after its government established the tourism standards and peace, regulations and use of talent for renewable energy sources. At one side of the picture, you will see the farming and agriculture growth in this country and on the other side are those emerging skylines and latest amenities. You will also experience the traditional cultural of riding on baffles, traveling on old wooden yachts, fishing, green orchard fruits, sowing of rice seeds. Your suitcase will be filled with artifacts when you will return home from Vietnam.
India

what do you think about South Asia when we are here talking about Eco-tourism destinations for this winter? Do you think a rich culture, beautiful beaches, living heart peoples would add to your tourism value? Yeah!! Let's start towards India. The Indian culture and adventures are so astonishing that one would never like to go back after being in this country for tourism. Getting through Buddhist monk sites, tracking the Royal Bengal Tiger, came back ride while crossing through Thar deserts or different monuments and historical sites which have been unique all around the world in this South Asian country.
When you think of India do you imagine cultures and adventures so distinct as to be truly astounding? Tracking a Royal Bengal Tiger, quietly observing as a Buddhist monk sits in the lotus position outside a mountaintop temple, or embarking on an exotic camel trek to the picturesque dunes and villages of the Thar Desert, NEI's four unique ecotourism adventures are unforgettable. Ranging from 15 to 22 days in length, Best of South India, Best of North and South India, India and Nepal and Best of North India offer a variety of soft adventure excursions, meaningful cultural experiences, a choice of lecture topics not to mention first class accommodations.
Patagonia

Torres del Paine national park of Patagonia is famous all round the Chile because of lovely lakes, fauna, massive glaciers, speculator pink granite mountains and cascades. A fourteen days tour to Chile will let you enjoy the Patagonian wilderness, horseback riding, boating, hiking and visiting an upscale lodge every night. You will also be added to volunteer for a Santiago community service project if you agree to it.
Australia

The everlasting winter eco-tourism experience in Australia usually involves unconventional activities in sublime settings. Through a two weeks tour to Australia for winter eco-tourists, you will enjoy the top Australian destinations, plus adventures experience, culture, wildlife – most of which take place in more remote locations. The tour sites are changed and customized according to customers' choices and always enhanced with enriched experience of Australia.
New Zealand
The blue beauty, New Zealand is a place of unparallel natural beauty and startling contrasts. New Zealand has been told as the most beautiful country on the earth by a writer, James Michener. The thermal geysers, massive glaciers contrasts with lush green farm lands, majestic fjords are the top things you will experience in your ecotourism to New Zealand. New Zealand is home to many unique species of plants, birds, and mammals. The New Zealand travel and tourism packages offer a 14-days ecotourism around the islands country with full of natural attractions. Climbing, hiking, national wildlife parks, rainforest, beaches, urban life and beautiful sunny sand areas.