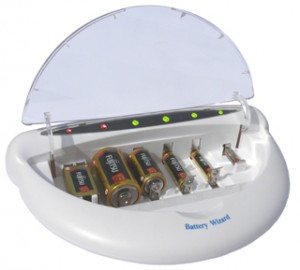 The Battery Wizard is actually a gadget I had heard of ages ago, but I hadn't been able to find one recently… until now! The Battery Wizard will recharge both rechargeable and conventional non-rechargeable batteries.
The charger is capable of charging conventional non-rechargeable batteries up to 10 times. Admittedly, the batteries will not be as well charged as they were when brand new. The Battery Wizard uses a patented pulsing system that charges the batteries. But if you have a set of faulty batteries, the charger will reject them.
The Battery Wizard is capable of recharging almost every size of battery, including AA, AAA, C, D, PP3 (9v) and N. The charger is compatible with batteries that have alkaline, rechargeable Ni-Cad, NiMH, high power and zinc carbon type chemistry. This charger gadget will help you get a little more usage out of your batteries before they go to your battery recycling plant.
The Battery Wizard costs £20 plus postage.