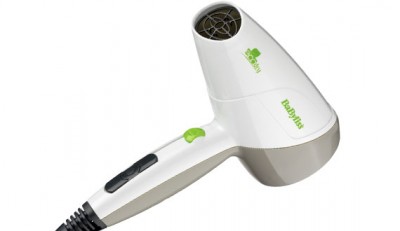 The Eco Dry Hair Dryer has been created by Babyliss to use significantly less energy to dry hair than a conventional hair dryer. Using new air flow and heating technology it provides the same drying power as other hair dryers while only using half the electrical power.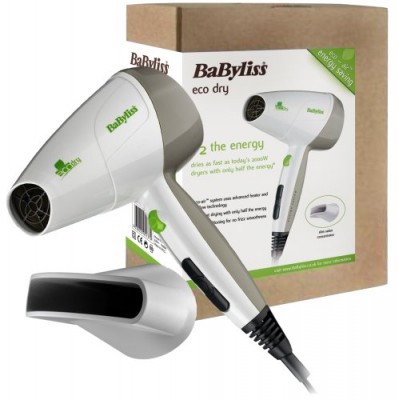 Most conventional hair dryers are 2000w dryers, these use a lot of electricity up to dry our hair. The Eco Dry Hair Dryer uses only 1000w instead, thus halving the power consumption of drying hair. This is no small impact, independent testers for Babyliss estimate that this electrical saving equates to 7 cups of tea or 11 slices of toast being made for each ten minutes the hair dryer is used.
The Eco Dry Hair Dryer uses new technology for heating and airflow to effectively dry hair with half the power. Most conventional hairdryers use almost 95% of their energy in heating up and only 5% of their power for air flow. The Eco Dry tries to balance things a bit more evenly, concentrating more energy into airflow, which is a much more energy efficient way of drying hair. The hair dryer then dries the hair as effectively as a conventional hairdryer, it uses half the power simply because its motor system works more efficiently to move the warmed air through your hair to dry it quickly.
The hair dryer comes with some of the usual features of modern hair dryers – a slim line concentrating nozzle,  ionic conditioning, and a lightweight design (0.35kg). It also has two heat/speed settings. Though it uses half the energy of most hair dryers it still uses a lot of energy for the simple job of drying hair, one way to make an electrical saving (the equivalent of 14 cups of tea and 22 slices of toast being made) is to simply let your hair dry naturally.
The Babyliss Eco Hair Dryer is available for £19.99 from Nigel's Eco Store.