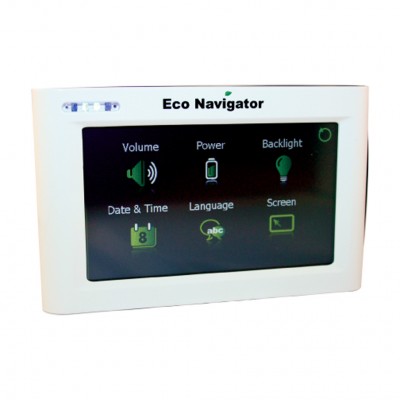 The Eco Navigator is a Satellite Navigation system that additionally offers diagnostics of the car and of its performance, helping you to visually see how changing your driving can improve your fuel use. The system can show you the most energy-efficient route for you to take while informing you of your MPG, CO2 emissions, and other such helpful data to help you make the trip as fuel-efficient and eco-friendly as possible.
The Eco Navigator is an eco-friendly SatNav that can provide you with the most energy-efficient route to take. It makes use of the latest and most complete Navteq maps of the US, Canada, Europe, and China. It offers fast and accurate positioning and is able to show points of interest, traffic reports, and turn-by-turn navigation.
The Eco Navigator is much more than a SatNav, the smart little system plugs directly into your vehicle's diagnostic port which provides power for the unit and continuously tracks fuel consumption, carbon emissions, speed, and dozens of other parameters. With this data, you can start to make changes to the way you drive, as you will be able to visually tell what effect it is having minute by minute. The Eco-Drive application can be used to help drivers attain optimum gas mileage by suggesting improved driving techniques and monitoring vehicle health. Through the system, you can regularly check the health of your vehicle as the system can run through the diagnostic codes and alert you to any issues.
The Eco Navigator can store all the journeys you take allowing you to review the data at a later date. You can inform it off when you are taking a journey you usually take, like to work, or to school. This allows you to track any improvements to your fuel efficiency and eco-friendliness on these routes over time. The Eco Navigator is a useful device for any who wishes to start to change their driving habits to use their vehicles in as eco-friendly a manner as possible. It can show you the impact of accelerating too quickly, using the wrong gear, and exactly how much of a change is really required to make a noticeable difference. The system is a great way to get from A to B using the best route, and with the skills, it can help you learn you can expect to improve your fuel efficiency by up to 25%.
The Eco Navigator Sat Nav is £249.99 including free UK delivery.