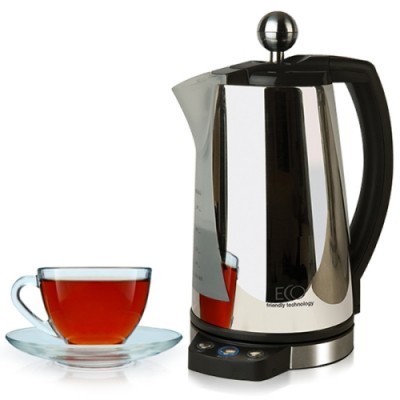 The ECO3 is an eco kettle that helps you to save electricity in two ways. Firstly it helps you to only heat the amount of water you need, secondly, it allows you to heat the water to lower temperatures, perfect for use but draining less energy than boiling.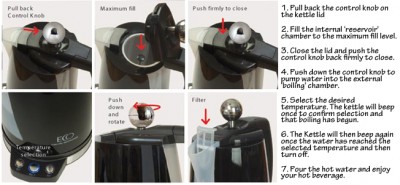 The ECO3 has a maximum capacity of 1.5 liters, once this water has been placed into the kettle you can select how much of the water you wish to boil. It does seem to have a minimum requirement of around 200ml, which is about enough water to fill a cup. You select how much of the main water reservoir you wish to boil with the knob on the top of the lid, by pressing down on it you will see water enter the heating chamber. This has a measurement guide marked out on it so you can press for just the amount of water you require.
Once you have the water required in the heating chamber, the kettle is ready to start heating. There are three different temperature settings, by selecting one of these settings the kettle starts to heat. The settings are designed for different purposes, the lowest setting is 80°C which is great for specialty teas, or for a hot drink that is ready for drinking quicker, perfect for when you do not have much time. The 90°C setting is good for making coffee and also allows you a quicker cooling time than boiling the kettle fully. The third setting allows you to boil the water fully for when only boiled water will do. When the kettle reaches the temperature you have selected it will produce an audible alarm to alert you that it is ready and switch itself off.
The Eco3 kettle has a 2.2 kW stainless steel concealed element inside. The 360° charging round allows you to place the kettle on it facing wherever you wish while still being operable, this charging base allows the kettle itself to be cordless. The kettle has a modern chrome finish, helping it to fit into any kitchen. This eco kettle allows you to heat only the water you require while storing water ready for use later. By using the temperature setting you can save even more electricity, helping to reduce your electricity bill even further.
The Eco3 kettle is available for £49.95 with free delivery.