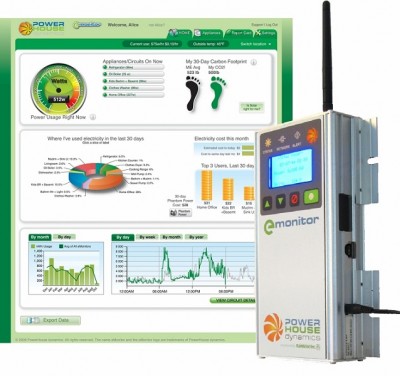 The eMonitor system allows you to easily monitor the electrical usage of your household in detail. The system can track the electricity being used by each and every circuit in the home and can allow monitoring of usage at the appliance level. This information is used to produce a tailor-made list of suggestions for your home to reduce your energy usage and allows you to take control of the electricity use in your household.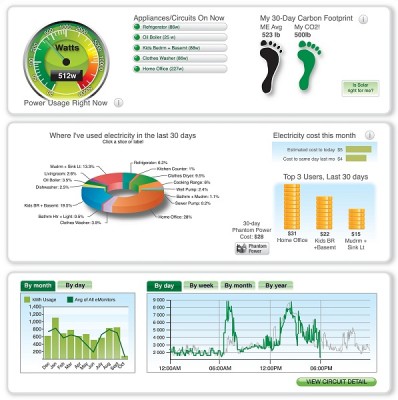 The eMonitor has been created by Powerhouse Dynamics to provide everyone with detailed information of their household's electrical use and so take control of the usage to hopefully help reduce a home's electrical consumption. Once installed onto your home's circuit board the system gets to work producing minute-by-minute reports on your electrical usage. This provides information to you of the usage of every circuit and the makers state it can allow individual appliance monitoring. The advantage of monitoring usage to this level is that the system can be set to inform you if something acts abnormally. If your freezer suddenly starts to draw more electricity than usual (maybe because of a fault) the system can alert you to this by email. You can also receive alerts to inform you that a circuit is nearing its capacity.
The eMonitor provides information on your electrical use in simple graphs that clearly display all the information you require to be able to fully monitor your energy consumption, especially with the aim of reducing your usage. The interactive graphs can show you exactly when and where the electricity is being used, allowing you to clearly see what is causing spikes in your energy usage. This information can also show you when something is left on, letting you see what savings can be made from simply turning off devices when they are not required.
The system should allow you to be able to interface with it through your iPhone. The system should allow you to take control remotely of your thermostat or even individual outlets, placing you in control of your household's electrical use. If you have several appliances running from the same circuit you can purchase Smart Outlets which plug into a wall socket, to have whatever devices you wish plugged in to it. The Smart Outlet provides you the ability to monitor that outlet in detail in a similar way to monitoring each circuit thus allowing you to also be able to access it from the dashboard display to control it remotely
The eMonitor system produces targeted recommendations to show you where you can start to reduce your electrical consumption. The system provides you with the power of information, this information can allow you to know when a device is faulty, which devices are being left on unnecessarily, and which appliances could be upgraded with lower energy equivalents to make a marked difference to your usage. The eMonitor allows you to take control of this information allowing you to remotely control each circuit or appliance to help you fully be in control of your household's electrical usage.
Source: Powerhouse Dynamics