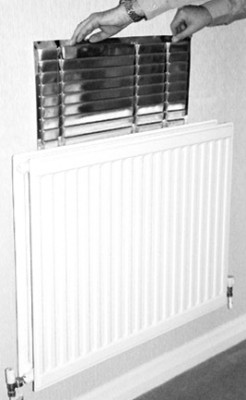 These Heatsaver Radiator Panels are a quick and easy way to increase your radiator's heating efficiency. The heat-reflecting panels can be installed in minutes behind your radiator to reduce the amount of heat that is lost through external walls.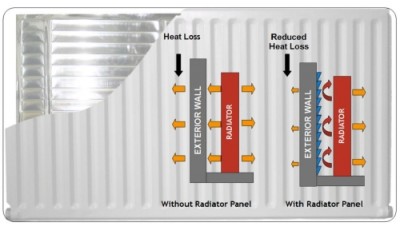 The Heatsaver Radiator Panels are made by Doctor Energy, they claim that up to 70% of the heat from the back of a radiator heats the wall behind it. Though warming up the walls of a house can help to heat it, especially any internal walls, external walls convey the heat through to the outside where the heat is drawn away.
The Heatsaver Radiator Panels are designed to go between your radiator and the wall, helping to prevent the wall from leaching the heat away. The panels are easy to install and come with full instructions and a roll of double-sided tape. The design of the panels enhances the convective flow of hot air from the back of the radiator, helping to create a 2-3 m rising air curtain that also helps to keep the heat from being lost to the wall and helps it to heat the air of the room which requires it.
This improved efficiency of your radiators will help to warm a room quicker and keep the water within the radiators hotter, reducing the number of times the boiler needs to reheat it. The combined effect of this can help reduce your heating bills by at least 15% and can be up to 20%, which is thought to be about a £60 saving a year for a semi-detached 3 bedroom house. Each panel is 68 cm x 44 cm (26.8 in x 17.3in), a standard-sized radiator will require two panels, the panels are supplied in packs of ten.
The Heatsaver Radiator Panels can help to save you money and reduce your carbon footprint while requiring very little effort in installation. The panels can work year after year and be removed and replaced if required, they are a great way to cut your household heating costs. The pack of 10 radiator panels is yours for just £40.80.