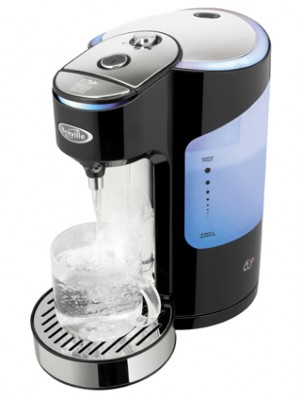 The Hot Cup is a kettle that boils only one cup of water at a time, from a small cup to a decent mug full. The kettle helps you to save electricity by only heating the water you require in an energy-efficient way.
The Hot Cup by Breville can hold up to 2 liters of water at a time, enough to fill around 5 cups before the water chamber requires refillings. The amount of water for each cup can be altered using a switch on the side, it can be set to allow you a small, medium, or large cup of hot water (up to 300ml at a time). The kettle does have a stop button, so if you have selected too much fluid for your cup you can stop the water.
The Hot Cup has a drip tray ready to catch any water, should a cup overflow or if the cup is not under the water nozzle, this ensures hot water is always safely contained. The kettle is easy to use, once the main chamber is filled, and the amount of water required selected, you simply place a cup under the nozzle on the drip tray and press the start button. The water chamber lights up while the water is boiling, the water takes just under a minute to boil a cup (around 40 seconds depending on the size of cup selected).
The Hot Cup helps to save electricity by not boiling unused water, it provides you with exactly the water you require quickly, however in situations where a round of hot drinks is needed the kettle would require separate boiling for each cup, in such situations this kettle may not be appropriate.
The Breville Hot Cup machine costs £59.99 plus delivery.