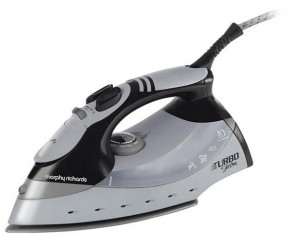 When we're saving the planet, we sometimes forget about the more mundane appliances around the home that we could upgrade to save some more energy. Some of the more energy intensive appliances in the home include vacuum cleaners, electric heaters, electric cookers, microwaves and kettles, as well as irons! The Morphy Richards Ecolectric Energy Saving Iron has been designed to save energy with an automatic shutoff after a set time period.
The eco shut off will turn off the iron electronically after 3 minutes when the iron is standing upright, and after 1 minute if the soleplate of the iron is on a surface. Given that the iron has a typical power consumption of 2kW, every minute the iron is not switched on will save you money. It would have been nice to see some more eco-friendly features, such as a more efficient hot-plate which needs less heating time, or a lower power rating overall. However, it's early days.
The iron also features a jet clean facility, which means you can keep the inside of the iron free from dust and particles, ensuring the iron is able to operate as efficiently as possible. Hopefully this helps if you live in a limescale area as well, as limescale furring inside a steam iron can stop it from working efficiently too.
The Morphy Richards Ecolectric Iron is available for just £39.14, which is about the same as any other good clothes iron in the UK.