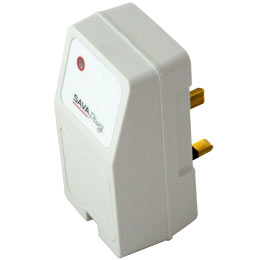 The Savaplug is a specially designed energy-saving gadget that helps to cut your electrical bills by helping refrigerators and fridge-freezers run more efficiently. The plug should help to reduce electrical bills by around £12 a year.
The Savaplug was created in a project supported by the Department of Energy, its aim is to help reduce the number of electricity fridges and fridge-freezers use. The device needs to be wired to the fridge or fridge-freezer, but it is as simple as wiring a normal plug, remove the current plug and attach the wires in their correct places within the Savaplug.
The Savaplug then works to lower the energy consumption by reducing the amount of energy getting to the refrigerator's motor. When a fridge starts up its motor the energy needed is high, as getting a motor started requires a lot of electricity. However, once the motor is going less energy is needed to keep it simple going and it is then that the Savaplug reduces the flow of electricity to the appliance.
It is thought that fridges are one of the most energy-intensive items you can run in a house. It is estimated that they cost around £55-£65 a year in electricity. The Savaplug is thought to reduce this usage by around 20%, though they are a lot more effective on older models of refrigerators. The plug will not work with models with an electrical controller.
There is some argument as to the effectiveness of the energy-saving plug, as once a motor has fully started up its energy consumption naturally drops. Also, most modern models cut their energy consumption to the motor anyway and use smaller motors so there is little to no saving to be made. This product then is more useful for those with old fridges and fridge-freezers who wish to cut their energy usage a little
The Savaplug is available for £25.99 plus delivery.