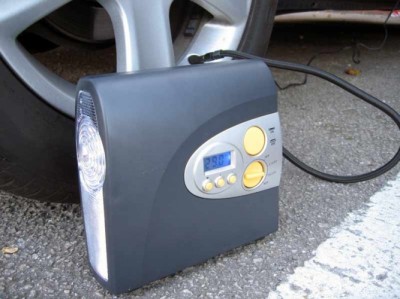 This Digital Tyre Compressor allows you to inflate your tyres to the correct pressure quickly and easily. The compressor can be used anywhere to ensure your car is working as energy efficiently as possible, helping you to save money and reduce your carbon footprint.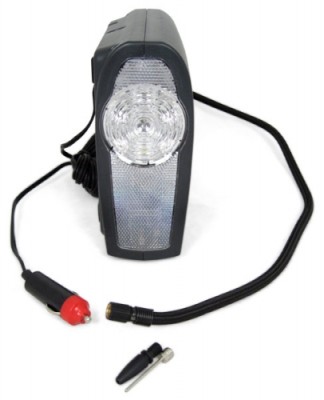 The Digital Tyre Compressor is a portable device that draws power from your car once it is plugged into your cigarette lighter, it can be used to check the pressure within your car's tires and through its stem connector, it is able to inflate your tyres when required. Having the correct tyre pressure has been shown to help save on fuel costs by ensuring your tires have the correct amount of traction at any time. This allows your engine to work as energy efficient as possible, as with too little traction it overworks finding grip, and with too much, your engine works hard to overcome the increase in friction.
The issue of having the correct tyre pressure is a widespread one. Kwik Fit recently conducted a survey, they found that 46% of drivers have under-inflated tyres. This incorrect tyre pressure is not just costing drivers money but is causing harm to the environment with extra CO2 emissions too. It is estimated that around an extra 2.2 million tonnes of carbon could be entering the atmosphere due to under-inflated tyres. By simply ensuring you always have the correct tire pressure it is thought you can save roughly 8% of your fuel bill.
The Digital Tyre Compressor is supplied with a black carry case which has been designed to allow you to store the digital tire gauge, adapters for sports balls, air mattresses, and rafts, the 3.5-meter power lead with cigarette lighter connector, and stem connector to inflate your tires all neatly away ready for use.
The compressor allows you to ensure your tires are always at the correct pressure to help save you money and reduce your carbon footprint. The device is great for use for regular tire checks or for emergencies on cars, vans, and motorbikes and is handy to have around when out camping for use inflating the mattresses!
The Digital Tyre Compressor is just £19.95 with free delivery.