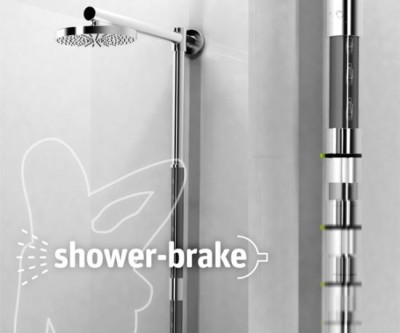 The Shower Brake is a concept design to help reduce the amount of water used in showers. The device slowly falls throughout the shower visually alerting you to how much water is being used.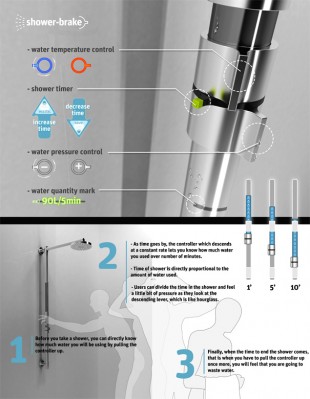 The Shower Brake, designed by Sang-in Lee and Dae Hyun Kim, has been conceived from the idea that we all forget just how long we are spending in a shower and that having a reminder or a timer will help us be quicker and use the time more efficiently. This should then reduce the amount of water used in having a shower and so save on both energies used to heat the water and on water bill costs.
The controls for temperature and water pressure are located on the device which needs to be moved up to start a shower, giving you an allotted amount of water for your shower. You can set the device up only half the way for a very quick shower so you have control as to how quickly you wish to shower. The device slowly falls steadily overtime at a rate proportionate to the amount of water you are using.
If you have the pressure set high then the device will fall quickly and conversely if you set the pressure lower it will fall slower. The device then helps to show visually the difference in water consumption. Once the device has descended to the bottom it will need to be moved back up to allow more water, this is meant to inspire a feeling of guilt in the user making them feel that they have wasted water by not washing quickly enough.
The concept design has benefits to those who step into a shower and lose all sense of time while feeling the warmth of the water on them. It may help people like them by showing visually that time is running out, they need to get on and wash rather than languish in the heat. However a shower can be for enjoyment as well as for cleaning and it's hard to believe many will really feel too guilty about moving the device back up again. By moving it up though they are then consciously making the choice to use more water and energy for the pleasure of the shower, without any excuse about losing track of time.