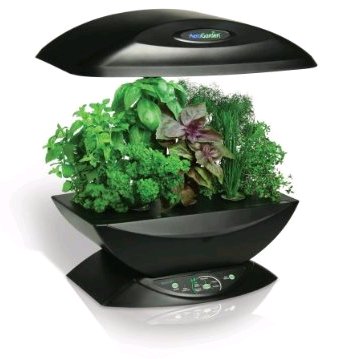 The AeroGarden gadget (Amazon UK or Amazon US) is a kit that allows you to easily cultivate lettuce, cherry tomatoes, herbs, chili peppers and more in an energy-efficient environment in your home! The kit comes with a pre-seeded growth medium, fertilizer, two daylight-spectrum bulbs and the grow pod itself. The plants start to grow within 24 hours, and the plants mature 5 times faster compared to ordinary soil.
The AeroGarden system monitors itself to maintain the optimum growing conditions and it will alert you if the plants need nutrients or watering. Regardless of outdoor conditions, you have the chance to grow fresh herbs and salad fruits all year round. The kit makes it completely hassle-free to grow fresh produce, needing less than 10 minutes of attention per month.
The AeroGarden will automatically optimise the light/dark growing cycle depending on the plant type. The eco-gadget is inspired by technology from NASA. The only downsides according to the reviews, are the noisy pumps and short life (6 months) of the bulbs.
The AeroPonics AeroGarden is available on Amazon UK and Amazon US.